ALOHA AND WELCOME TO IMMACULATE CONCEPTION CHURCH, LIHUE!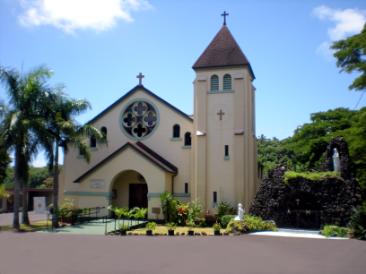 Information about our parish schedules, religious education, sacramental information, ministries, photo album, and directions to our parish will be found here. Our website is updated weekly, so please check back with us from time to time. If you are not from our parish, thank you for taking the time to visit. We hope you'll spend a little time getting to know us, and decide to visit us in person! If you have any questions about our community, please use the contact links, and we would be more than happy to assist you.
Our parish reaches out to the needy to give aid and comfort. Food and clothing drives, helping the elderly, and repairing local homeless housing are just a small part of what we do.
If you would like to make a secure, online donation to our church, please Donate Here.
MISSION STATEMENT
We, the parish community of Immaculate Conception, are a multi-ethnic people, who in our diversity find our strong sense of unity in our belief in Jesus Christ. We initially express our belief in Christ Jesus through Baptism which binds us as a community. We are a unique community of the universal Roman Catholic community. We find our uniqueness in living within the district of Lihue, with its culture and its traditions. In common with all Roman Catholic communities, our faith and life together is nourished by the Eucharist which is the source and summit of our lives and our mission.
As a community centered in the Eucharist, we are a people compelled to mission. Our mission is threefold: outreach to the unevangelized, the broken, and the poor; unity among ourselves while respecting our diversity; and renewal of our identity as Disciples of Christ. We fulfill our mission through education, social action and human services; community participation on all levels; and availability and soliciting input.
Because we place ourselves under the patronage of Mary, the Mother of Jesus and our mother under her title of the Immaculate Conception, we have a particular love and concern for your young people in our church community and the community at large. Mary, our patron, nurtured and cared for her Son. Imitating her spirit, young people are of the highest priority in all of our activities and programs.
VARIOUS LINKS OF INTEREST
4453 Kapaia Road, Lihue, HI | 808-245-2432